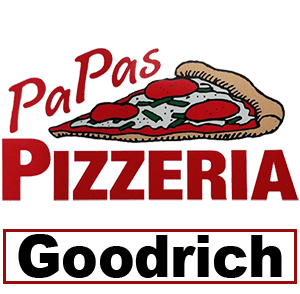 12" and 16" Gluten Free pizzas take longer than regular pizzas.
Thank you for your patience!
Papas Pizzeria (Goodrich)
Welcome to Papa's Pizzeria Goodrich. We pride ourselves in being a Traditional Brick Oven Take-Out Pizzeria specializing in a variety of unique Pizza creations, as well as Breads and Wings. We use only the choicest meats, finest cheeses, freshest ingredients, and hand tossed dough to create authentic and delicious meal experiences. Papa's Brick Oven pizzas and specialty items stand out from the competition, and that's by design. Order online today for carryout and come visit us. We are located right off the corner of M-15/South State road and Oak street, a quarter-of-a-mile East of the Goodrich Millpond and just north of the Shinanguag Lake.
100%
of 496 customers recommended

Hours of Business

Sunday

1:00 PM - 9:00 PM

Su 13:00-21:00

Monday - Thursday

11:00 AM - 9:00 PM

Mo,Tu,We,Th 11:00-21:00

Friday and Saturday

11:00 AM - 10:00 PM

Fr,Sa 11:00-22:00

Carryout Hours

Monday - Thursday

11:00 AM - 9:00 PM

Friday and Saturday

11:00 AM - 10:00 PM

Pizza,Wings,Salads,Pasta,Sandwiches